The ultra-bright flashlight with a
maximum of 100000 lumens
allows you to
see anything within 2 kilometers!
With excellent
heat dissipation design
and long
battery life
, you
don't have to worry about the long use time caused by high heat.
Its shell is made of high-quality ABS material, which is wear-resistant, durable and resistant to falling. Its luminous part is made of high brightness LED, which has a long service life. As an essential emergency flashlight in your home, it can provide bright light when you need it. Choosing this rechargeable flashlight is a good decision.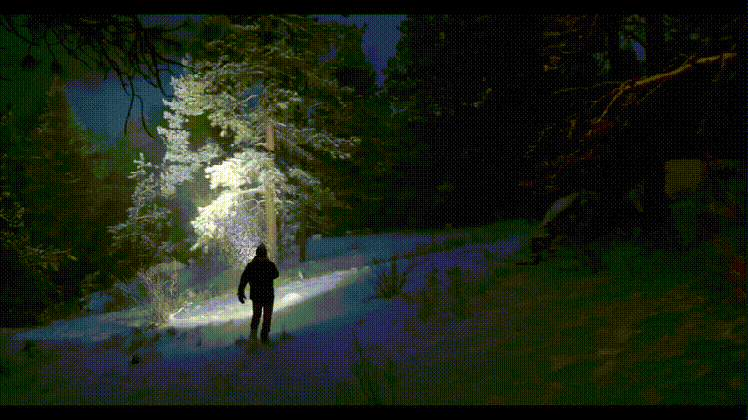 High lumens flashlights with 4 lighting modes: low brightness, medium brightness, high brightness and strobe. In addition, the IPX68 grade waterproof tactical flashlight can be used normally in any bad weather such as rain or snow.(Don't put it in the water directly)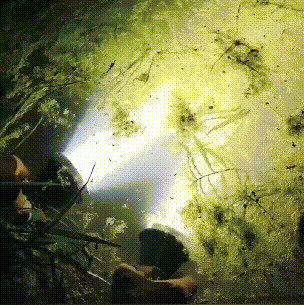 USB Rechargeable & Power Display
Conveniently powered up to 300 minutes! Built in Micro input port, allows you charging the led flashlight conveniently. In addition, rechargeable flashlights have a power display function, so that you can see the power at a glance.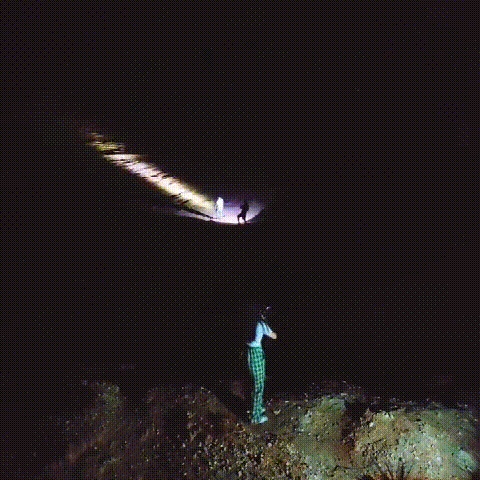 FEATURES:
SUPER BRIGHT:

The flashlight is the brightest powerful flashlight in the World. With a solid build and blinding brightness, the flashlight rechargeable flashlight comes with 18pcs Cree XHP70 2nd high lumens LEDs, max output is up to 100,000 lumens, and the max beam distance is up to 2350 meters (Nearly 8429ft). Good for the power outage, camping, hiking, caving, exploring, etc.



SUPER BRIGHT WIDE BEAM & 9 MODES: Ultra-wide beam effortlessly illuminates a whole room or backyard. It is 50 times brighter than car lights. 9 settings replace the need for multiple flashlights:(700lm/2000lm/5000lm/10,000lm/22,000lm|30,000lm/60,000lm/100,000lm/Strobe).

And this led flashlight is powered by a rechargeable battery pack (included) which helps save the battery cost and is very environmentally friendly. Makes for a practical addition to any household or emergency kit.



OLED Display: the digital screen of the bright flashlight will display its electricity level, then we know clearly how much power of a battery is still there.


TOUGH & SMART DESIGN: This powerful flashlight is rechargeable, made of high-performance aluminum alloy, sturdy and durable, designed to be virtually indestructible. The first flashlight with a heat pipe cooling system(cooling fans) ensures high performance and longer runtime on high output. and is IP68 waterproof and dustproof,

which make the flashlight more durable and tough.
Your Benefits:
✔️ 5 Modes - Strong, middle, strobe, low, SOS
✔️ Impact-resistant - Hard aluminum body resists 2+ meters drops
✔️ Water-resistant - IPX68 rated, can be used under heavy rain
✔️ Ultra-powerful - High lumens 10 XHP70.2 LED bulbs, 100,000 lumens
✔️ Durable - 100000 hours light bulb lifetime
THE QUALITY OF OUR FLASHLIGHT IS SECOND TO NONE
Super Bright Wide Beam
100000 lumens flashlight can effortlessly illuminates two football field, provides people a dependable and convenient lighting tools.
Built to last a LIFETIME
Its shell is made of high-quality ABS material, which is wear-resistant, durable and resistant to falling.
HOW TO USE: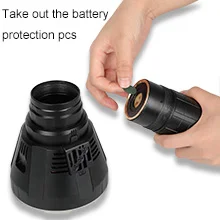 For first use, please take out the battery protection pcs. (it is between flashlight head and battery pack).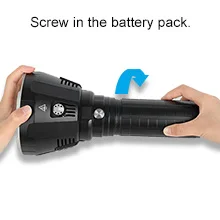 Screw it as tightly as you can, as the flashlight need a high current, so if not tight enough, it won't be able to pass it's current.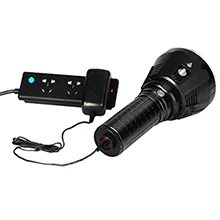 Do charge the batteries before you use them. Charging 8pcs 21700 batteries will take out 4 hours 25 minute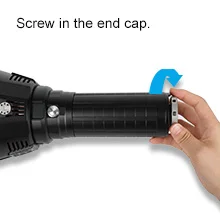 Screw-in the end cap after you charged it.
FAQ:
Q: How many light modes does this torch have?
A: There are 5 modes on this item - full, less, lesser still, flashing, SOS signal. This torch is BRIGHT on full but, of course, uses battery power accordingly.
Q: How many hours for runtime?
A: I'd say around 4 to 5 hours on high setting. Your best bet would be to buy a couple of extra batteries for it if you're going on long trips with it.
Q: Where is it made?
A: The flashlight is produced in the United States and shipped from our warehouse in California.
Q: Is this flashlight safe?
A: The flashlight is "safety rated" and can be safely operated in an area where explosive gases, liquids, dusts or fibers are present or may be present. Our Flashlight is designed to not be a source of ignition in potentially hazardous environments.
Q: Is it really that bright or is it fake?
A: With 100.000 lumens, the flashlight is one of the brightest flashlights on the market. We are one of the few manufacturers who specialize in the unbundled power of LED flashlights. You can't fake this power!
Size:
Length: 265mm
Head Diameter: 129mm
Body Diameter: 59mm
Net weight: